Best Black Friday Canon Digital Camera Deals 2023
TikTok creators have been going crazy over the image quality of various Canon digital camera models. Everyone is shocked at the difference a simple camera can make to what you can capture when compared to when using a smartphone. If you're looking to step up your social media game without breaking the bank, we suggest taking advantage of the Black Friday offers this year. We've compiled the top 3 Canon digital cameras that content creators have been raving over to help you find the best camera at the best price this Black Friday!
Open the Canon site in a new tab
Open the Canon site in a new tab
Open the Canon site in a new tab
Available until further notice
Open the Canon site in a new tab
Available until further notice
Open the Canon site in a new tab
Open the B&H Photo site in a new tab
Available until further notice
Open the eBay site in a new tab
Canon Black Friday sale
Thisyrat, Canon is offering up to 40% off of select products for their online Black Friday sale. Score discounts on accessories, like lenses and binoculars, in addition to their other range of products. Above, you'll find all the best Canon coupons to help you save the most on your Black Friday orders of digital cameras and more! 
Digital camera vs. smartphone camera
Opting for a dedicated digital camera over your trusty smartphone for snapping and filming content for social media has its perks and drawbacks. Digital cameras generally deliver superior image and video quality, thanks to their advanced lenses and sensors. They allow for greater control over settings like brightness and focus, which can elevate the quality of your content. These cameras shine, especially in low-light conditions or indoor settings. On the other hand, digital cameras tend to be bulkier and less portable than your smartphone. They might require extra gear such as memory cards and special lenses, which can add to the overall cost. Additionally, the process of sharing your photos on social media from a camera can be less straightforward compared to the simplicity of your phone. It's a trade-off between superior quality and a bit more complexity in the workflow.
Best Canon digital cameras for Black Friday 2023
Best Canon digital cameras for creating content

Camera

Good for video

Special features

Regular price

Black Friday price

Best place to buy

Canon G7X Mark II

✓

Great for vlogging

$899.99

$629.99

Canon Powershot Elph 180

✓

Fisheye effect

Toy camera effect 

$159.99

$129.99

Canon IXUS 285

✓

Hybrid auto (video clips) 

Creative shot

$395.99

$225.00

eBay (used) 
Canon G7 X Mark II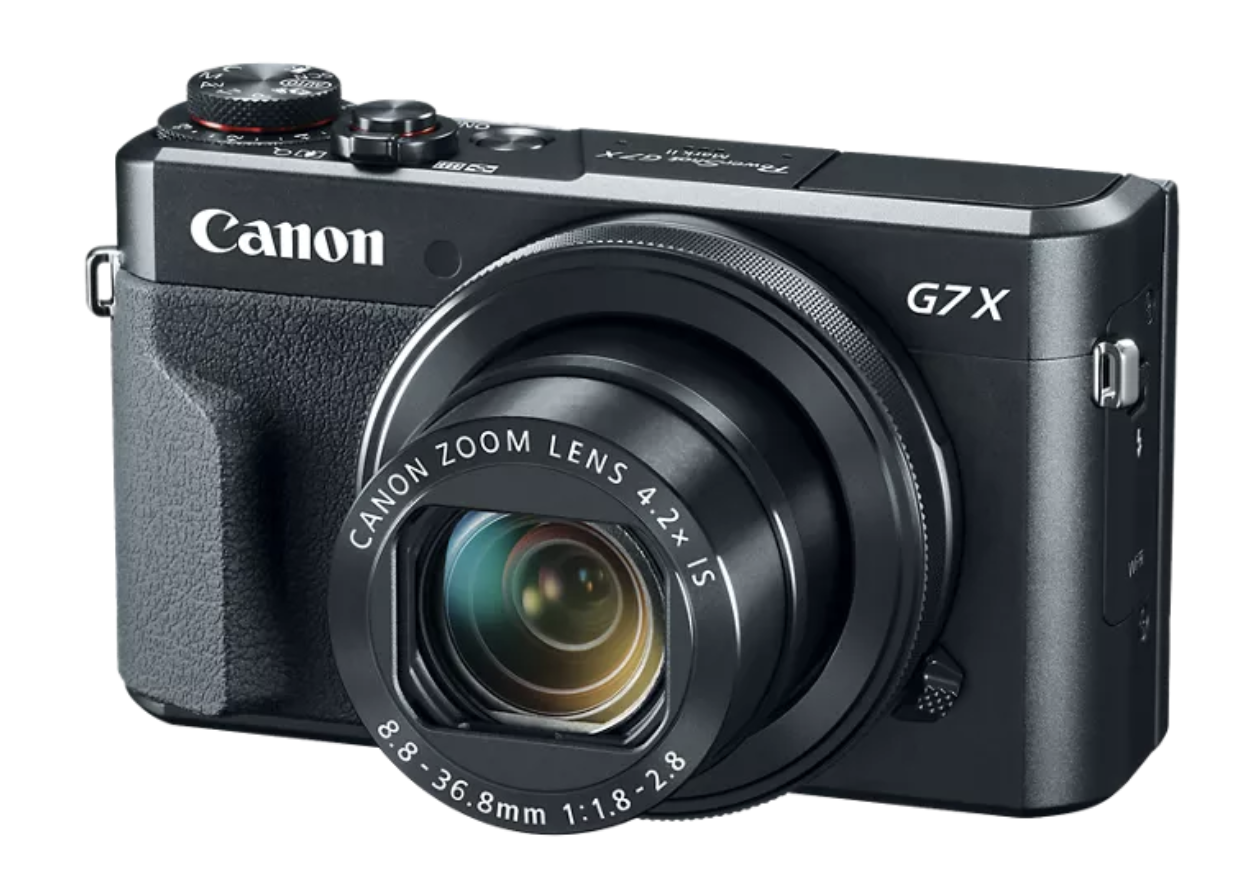 The Canon G7 X Mark II was released back in 2015. The original G7 X was already a game-changer, offering image quality that rivaled SLRs but packed into a sleek, pocket-sized frame. What made it stand out were its 1-inch sensor and wide-aperture lens, which allow it to capture light similarly to professional cameras. Fast forward to today, and the G7 X Mark II has undergone many subtle yet impactful improvements, including a speedier processor, a user-friendly grip, and a tilting LCD screen. Battery life has been boosted, too, and while extra batteries might be a tad pricey, the investment is worth it. The G7 X Mark II keeps its edge with a versatile lens ring, touchscreen interface, and impressive performance, making it your go-to choice for capturing stunning moments. Join us this shopping holiday and seize the opportunity to own a piece of imaging excellence! Check out these Black Friday G7 X Mark II listings and come back for updates on this year's discounts: 
Black Friday Shopping Tip:
eBay is a great place to look for devices like cameras during Black Friday! Buying secondhand from their verified sellers is the perfect way to score your camera for less than the retail price!
Canon Powershot ELPH 180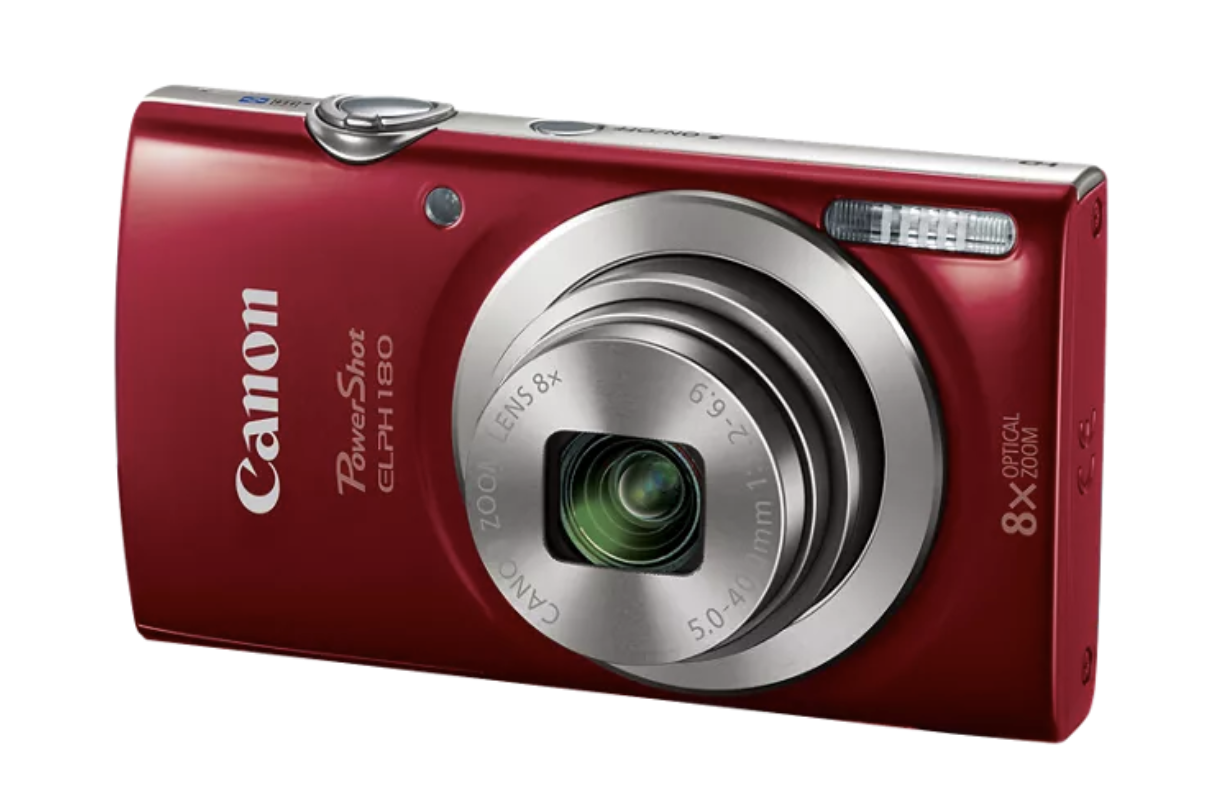 Meet the Canon PowerShot ELPH 180: a small camera that's both budget-friendly and capable of taking great photos. With 20 million pixels, it captures clear and detailed images. It also has a zoom lens that lets you get closer to your subjects. The camera is slim and lightweight, making it easy to carry around. While it may not have some advanced features like image stabilization and wireless connections, it's simple to use. Just point and shoot, and you'll get good pictures. It can even record videos in decent quality. Whether you choose the silver or red one, the Canon PowerShot ELPH 180 offers good value for those looking for an affordable and compact camera. Don't miss out on the Black Friday deals on this model!
Black Friday Tip:
To get the most bang for your buck this Black Friday, check out Walmart's camera bundles! This is a great package deal to purchase not only your digital camera, but also other essential accessories, like tripods, memory cards, replacement batteries, carrying cases, and more!
Canon IXUS 285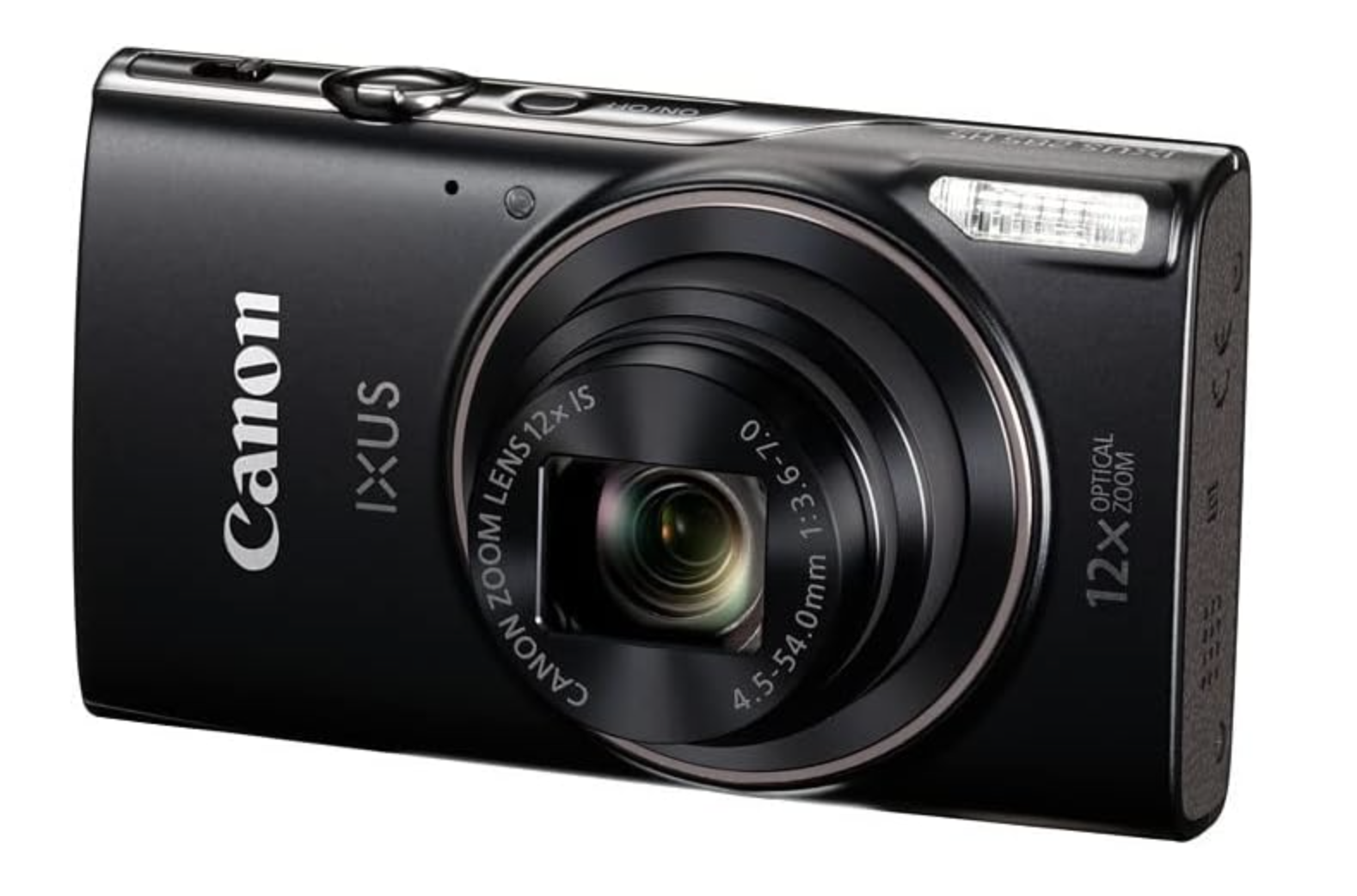 The Canon IXUS 285 is an affordable compact camera designed for simplicity. It features a 20-megapixel sensor and a 12x optical zoom lens, allowing you to get close up to your subjects without compromising on image quality. The camera is user-friendly, with an "easy auto" mode for beginners, making it a breeze to point and shoot. It also offers some creative shooting options for those who want to experiment. While it may not have all the bells and whistles of higher-end cameras, however, it is wifi compatible and is a stylish and pocket-sized option for everyday photography. With a price tag of around $120, it's a budget-friendly choice that delivers decent image quality in well-lit conditions. If you're looking for a simple and affordable camera to capture your memories, the Canon IXUS 185 is a reliable choice. Check out these Black Friday listings! 
Black Friday Shopping Tip:
Did you know you can find refurbished Canon products on their website? These items are discounted by up to 30%! Check out the selection of refurbished cameras to score savings on your purchase during Black Friday!
More Canon information 
Who is Canon?  
Canon is a brand that has been making history since 1937. Their journey started in Tokyo, Japan, with a vision to redefine photography and imaging. Throughout the years, Canon has consistently pushed the boundaries of technology, introducing iconic cameras, innovative printers, and cutting-edge imaging solutions that have left an indelible mark on the industry. Join us this Black Friday to enjoy exclusive Canon deals that continue to shape the future of imaging! 
Why choose Canon cameras?
With Canon, you're not just buying a camera; you're investing in a tool that brings your creative vision to life. From the sleek design to image quality, Canon cameras offer exactly what creative individuals need. Whether you're a professional or amateur photographer, a social media content creator, or just looking to capture your favorite moments, a Canon camera is a reliable tool for you! 
Cameras with wifi 
While most of Canon's digital cameras do not come with wifi, it's still very easy to upload your photos to your smartphone or laptop. All you need is a lightning-to-USB adapter or an Apple lightning-to-SD-Card camera reader. Follow these easy steps: 
Plug the USB cable into the adapter, as well as the camera's cable. 

When the screen shows your photos, select "import" to begin the transferring process. 
A similar process applies when using an Apple lightning-to-SD-card camera reader, except you'll simply insert the SD card into the reader and your phone. Select the photos you wish to import to your smartphone and you're done! 
How to charge
Most Canon cameras require a USB charging cable. You can find these on Amazon for as low as $10.
More Black Friday deals 
Plan your Black Friday shopping with our other shopping guides! Check out these other popular products you can save on: