Best Black Friday Deals on Ergonomic Office Chairs
Whether you're working from home or in the office, a comfortable and ergonomic chair can make all the difference in your productivity and overall well-being. That's why we've rounded up the top Black Friday picks for ergonomic office chairs that are not only stylish but also wallet-friendly. In this article, we'll introduce you to these fantastic chairs, guide you on where to snag the best deals this Black Friday, and answer some common questions about ergonomic office chairs. So, let's dive right in and help you find the perfect chair for your needs without breaking the bank! 
Open the Staples site in a new tab
Open the Walmart site in a new tab
Open the Office Depot site in a new tab
Open the Office Depot site in a new tab
Best Black Friday Ergonomic Office Chair Deals

 

Material

Seat dimensions (L x W x H)

Weight limit (lbs)

Colors

Regular price

Black Friday price

Best store to buy

Staples Hyken mesh chair

Mesh

17.23-20.98" x 19.37" x 16.77"

275lb

Black

Red

Charcoal Gray

$299.99

$149.99

Alera Elusion Series EL41ME10B

Mesh 

Foam

28.35" x 22.20" x 16.54"

275lb

Black 

Red

$199.99

$139.97

NYPOT Ergonomic Kneeling Chair

Wood 

Foam

33" x 16" x 20.5"

250lb

Black

Blue

Grey

Ivory

$199.99

$179.99

Herman Miller Mirra 2

Mesh

Foam

24" x 25" x 48"

330lb

Black

$1,095.00

$499.99 (open-box)
Staples Hyken Mesh office chair 
According to reviews, the Staples Hyken Mesh Task Chair with Adjustable Arms is delivered conveniently, is easy to assemble, and comes at a reasonable price point, making it a cost-effective choice compared to pricier alternatives. The chair features a mesh design that allows for breathability and maintains comfort even during extended work sessions. While it offers various customization options, some limitations are highlighted, such as the headrest adjustability. However, for its price range, the Staples Hyken chair appears to provide good value for those seeking an ergonomic office chair. Our team has been on the lookout for the best Black Friday deals and discounts on this chair, so you can enjoy ergonomic comfort without breaking the bank!
Alera Elusion multifunction chair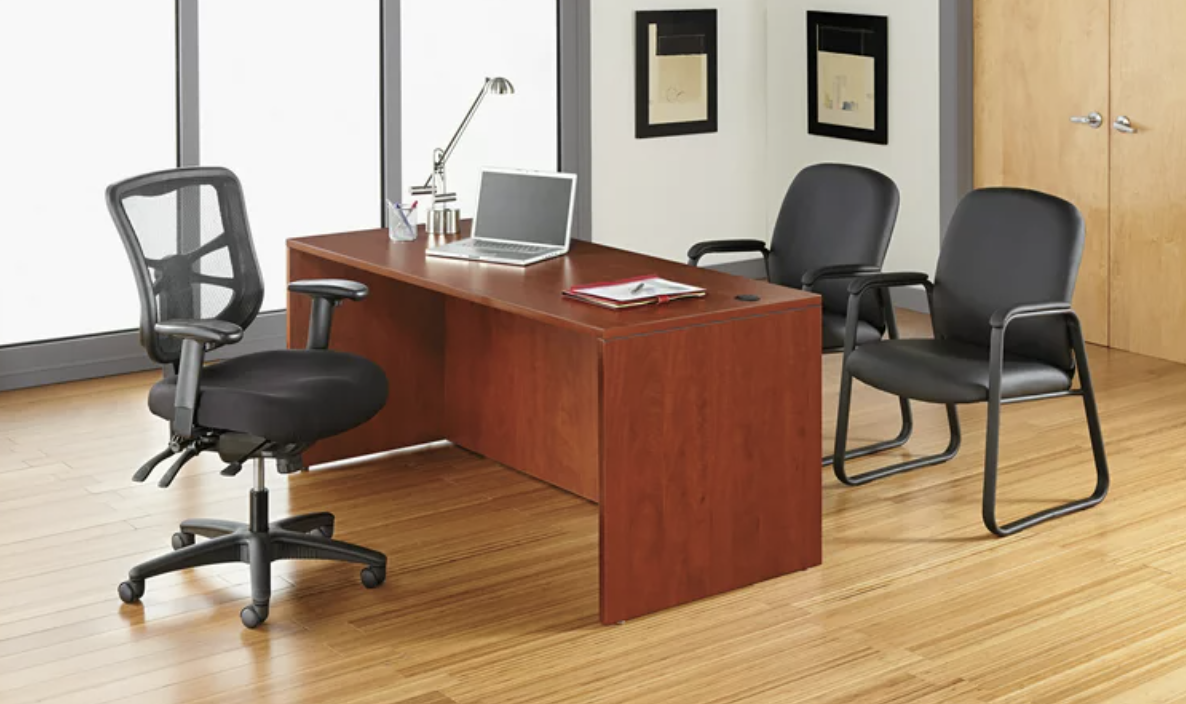 If you're in the market for an ergonomic office chair this Black Friday, consider the Alera ALEEL42BME10B Elusion Series. Our research shows that it has both strengths and weaknesses. When it comes to comfort, opinions vary – some users find it comfy for marathon work sessions, while others prefer shorter stints. Adjustability-wise, it covers the basics, and putting it together might require a tad more patience. On the durability front, reviews say the backrest wears over time and has some minor squeaks. However, the Alera Elusion is a budget-friendly option that performs admirably. Keep an eye on our Black Friday deals because our team will be on the lookout for discounts that fit your needs and budget!
NYPOT Ergonomic kneeling chair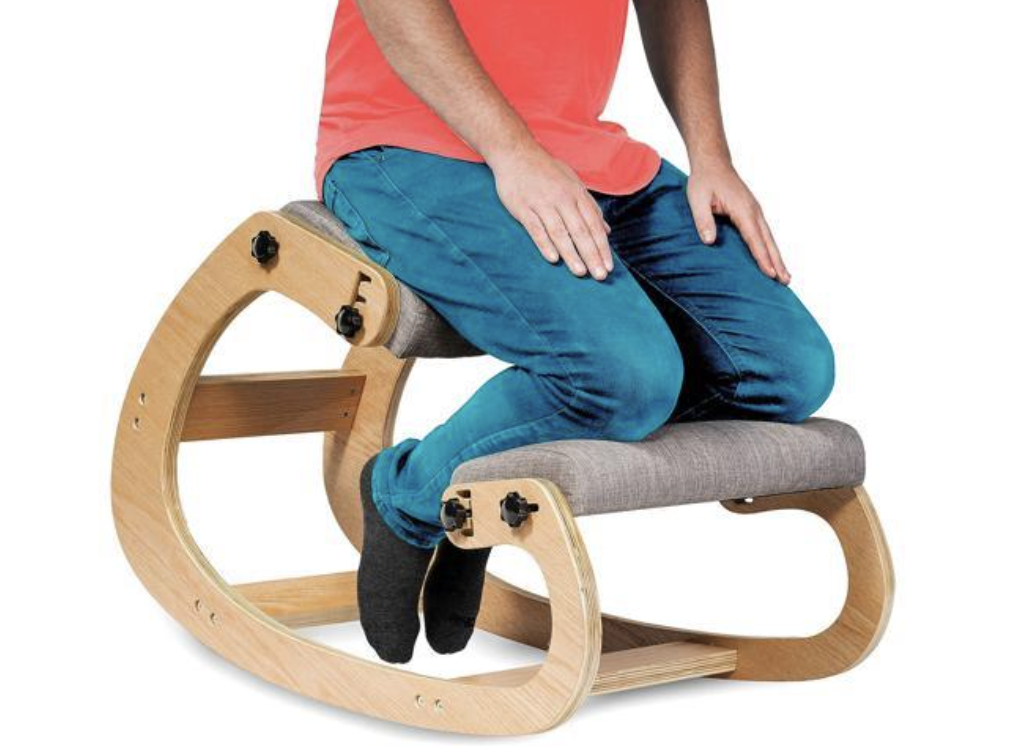 The NYPOT Ergonomic Kneeling Office Chair is a versatile chair that offers adjustable height to accommodate all body types. It is designed to improve your posture, ensuring you sit upright effortlessly. Say goodbye to those long hours in a single position – the rocking ability of this ergonomic kneeling chair shifts pressure points, enhancing concentration and comfort. Plus, it's not just for the office; you can use it as a cross-legged chair or a meditation desk chair. With its functional design and the promise of better posture, it's an ideal gift for anyone who values comfort and productivity. Keep an eye out for our Black Friday deals as our team hunts for the best discounts on this fantastic ergonomic office chair!
Herman Miller Mirra 2 office chair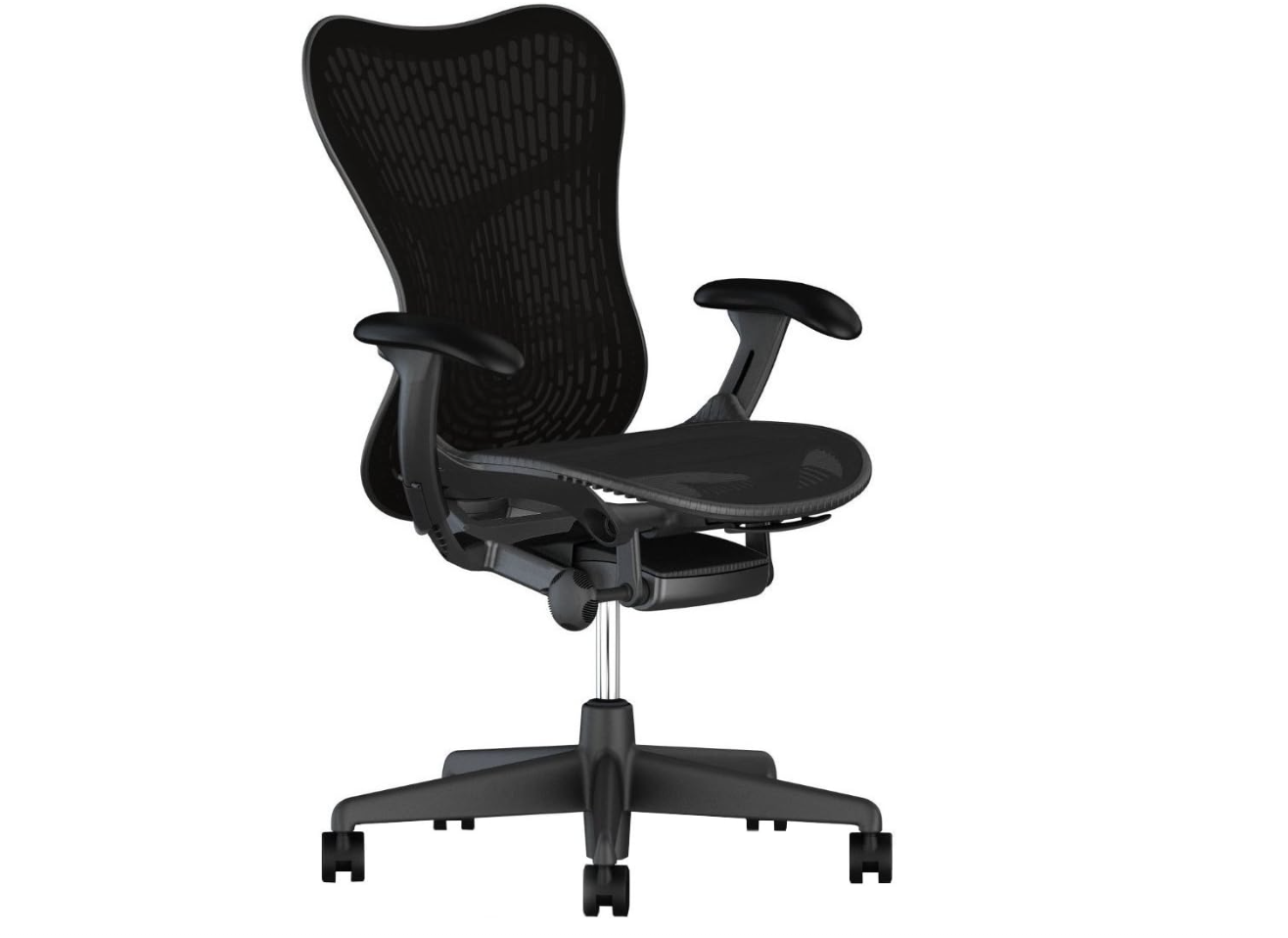 Looking for a high-end ergonomic office chair this Black Friday? The Herman Miller Mirra 2 might be your perfect fit! While it boasts style and supreme adjustability, it's important to note that no instructions come with the chair, so patience is key in finding your ideal settings. Once dialed in, the Mirra 2 offers top-notch comfort and support for those long work hours. With features like adjustable lumbar support, fully adjustable arms, and a tilt limiter, it's designed to cater to your needs. Keep in mind that customization options affect the price. Stay tuned for Black Friday deals as our team scouts for discounts on this fantastic ergonomic chair!
Amazon: $499.99 (open-box) / regular price $649.99 
Black Friday Tip:
If you're looking to buy the Herman Miller Mirra 2 this Black Friday, your best bet for saving is buying an open-box chair. This means it will be second-hand, but it will drastically lower the price. Find great-condition open-box office chairs during Amazon's Black Friday sale!
Before buying an ergonomic desk chair on Black Friday...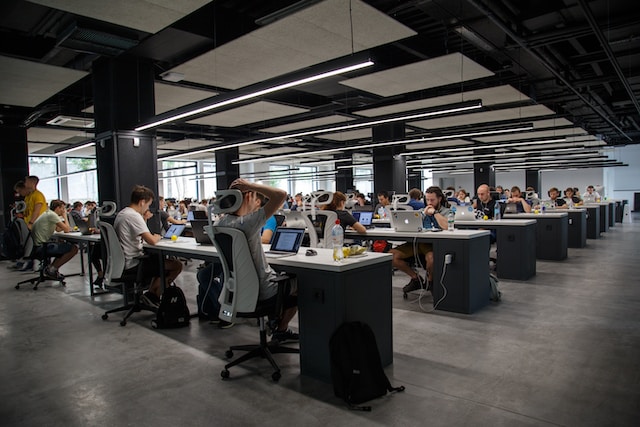 We want to answer all of your burning questions and provide you with the information you need to make an informed decision about your ergonomic office chair purchase this Black Friday. Whether you're curious about the benefits of ergonomic chairs, how to choose the right one, or what to expect in terms of Black Friday discounts, you'll find the answers here. Let's dive into the world of ergonomic office chairs and get you on your way to improved comfort and productivity.
Will I find Black Friday discounts on office chairs? 
Yes! Black Friday is a great chance to score your new office chair for a great price! We will be updating you here with the best Black Friday coupons to use to save big on your purchase. 
Are ergonomic chairs worth it? 
Absolutely! Investing in an ergonomic office chair is a smart decision for anyone who spends significant hours at a desk. These chairs are designed to promote proper posture, reduce the risk of discomfort, and enhance overall well-being during extended work sessions. With features like adjustable lumbar support, seat height, and armrests, ergonomic chairs can be tailored to your specific needs, ensuring optimal comfort and productivity. They help lower the strain on your back, neck, and shoulders, potentially preventing long-term health issues associated with poor seating habits. Plus, the increased focus and reduced discomfort that ergonomic chairs offer can boost your work efficiency. Keep an eye out for our Black Friday deals to make this valuable investment even more affordable!
How do they work?
Ergonomic office chairs work by prioritizing comfort and promoting proper body alignment during extended periods of sitting. These chairs accommodate various body shapes and sizes, ensuring a custom fit for each user. Key ergonomic features include adjustable lumbar support to maintain the natural curve of your lower spine, adjustable seat height to align your thighs horizontally, and armrest adjustments to support your arms and shoulders. Some chairs also offer features like tilt mechanisms and headrests for additional customization. By allowing you to fine-tune these settings, ergonomic chairs help distribute your body weight evenly, reducing pressure points and minimizing strain on your muscles and joints. This results in improved comfort, and reduced fatigue, which allow for more productivity throughout your workday. 
Are they comfortable?
Ergonomic office chairs are renowned for their comfort, as they are designed with the user's well-being in mind. They often incorporate high-quality cushioning materials that provide ample padding to reduce discomfort during long work hours. The combination of these customizable features and ergonomic design principles makes ergonomic office chairs genuinely comfortable, allowing you to maintain a relaxed and pain-free posture throughout your workday.
How long do they last? 
The lifespan of ergonomic office chairs can vary depending on factors such as the quality of construction, frequency of use, and proper maintenance. Generally, high-quality ergonomic chairs are built to withstand regular use for a prolonged period. A well-crafted ergonomic chair can last anywhere from 7 to 15 years or even longer with proper care. To maximize the lifespan of your chair, it's essential to follow the manufacturer's care instructions, which may include regular cleaning, lubrication of moving parts, and avoiding excessive weight or strain. Investing in a durable ergonomic office chair is not only beneficial for your comfort and well-being but also for ensuring that it serves you well for many years, making it a worthwhile investment in your workspace. 
When do I need to replace my office chair? 
Several signs indicate that it's time to consider a replacement: 
Experiencing discomfort, back pain, or discomfort while sitting, even with adjustments

Visible wear and tear, such as frayed upholstery, damaged armrests, or broken wheels

Creaking or squeaking noises, despite proper maintenance 

Your chair no longer responds to adjustments or fails to maintain a stable position
Black Friday is the perfect opportunity to score a brand-new desk chair, so be sure to come back here for updates on all of the best offers! 
What else can I buy during Black Friday?
The biggest shopping season of the year is just around the corner, and we're here to share our best shopping guides! Check out these Black Friday pages to find out how to save on this year's most popular products: