Best Workout Clothes for Your Next Pilates Class
If you're looking to join the hottest workout trend, here's how to get the best from your Pilates session with these workout outfits.
It is the workout of the moment, beloved by the A-list and athletes alike. From Harry Styles to Kate Hudson and Cristiano Ronaldo, it seems like everyone has discovered how Pilates can improve muscle tone and core strength. 
But it's not just for the glitterati; anyone can benefit from regular Pilates practice, even if you are a complete beginner.
Yes, you'll find reformer Pilates and all sorts of machines and tools if you research online, but the great thing about Pilates is that you can start with just you and your mat.
Whether you have already started or are trying it out, selecting the best Pilates clothes for your practice is key. This includes ensuring the best fit, style, and comfort to support your workout, so you don't face those irritating problems of restrictive bras or shorts that ride up.
When it comes to Pilates clothing style tips, the pieces you choose should feel like a natural second skin. You want to feel good, and breathable fabrics will help you to feel cool and comfortable, allowing you to move freely while feeling supported.
Looking for comfortable Pilates outfits for your workout? Let's explore some stylish options for Pilates wear to ensure you get the best from your class and yourself.     
Leggings that don't fall down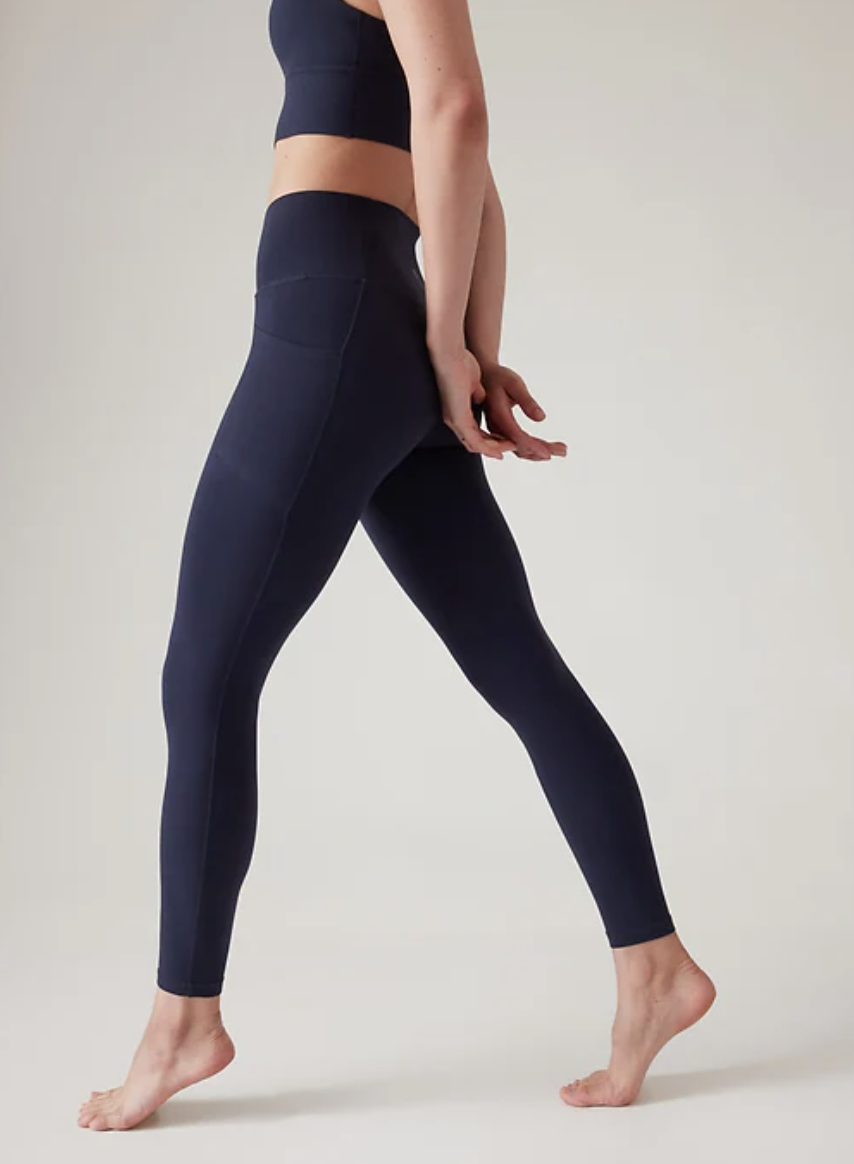 For Pilates, choosing leggings that will support every movement of your body is essential; simple cotton leggings will not do the trick. You don't want the worry of leggings slipping as you practice dynamic exercises. We recommend Athleta for comfortable leggings that really support you.
Athleta's Salutation Stash Tights are ideal for Pilates, yoga, or any other studio practice. Buttery-soft Powervita fabric gives you crucial support, and a wide compression waistband ensures they fit snugly without digging in. 
There are subtle pockets - perfect for storing any essentials - and the nylon-lycra blend helps wick away sweat so it can evaporate faster, ideal for a high-intensity workout. Best of all, the easy compression of these leggings ensures that you have support in all the right places.
These Athleta tights are also perfect for outdoor practice and are rated UPF 50+ to get the ultimate protection you need from strong sun rays while working out in your favorite park or outside in your backyard during those sunny days. 
They are also easy to take care of and only need a quick machine wash and dry. 
Supportive tops and sports bras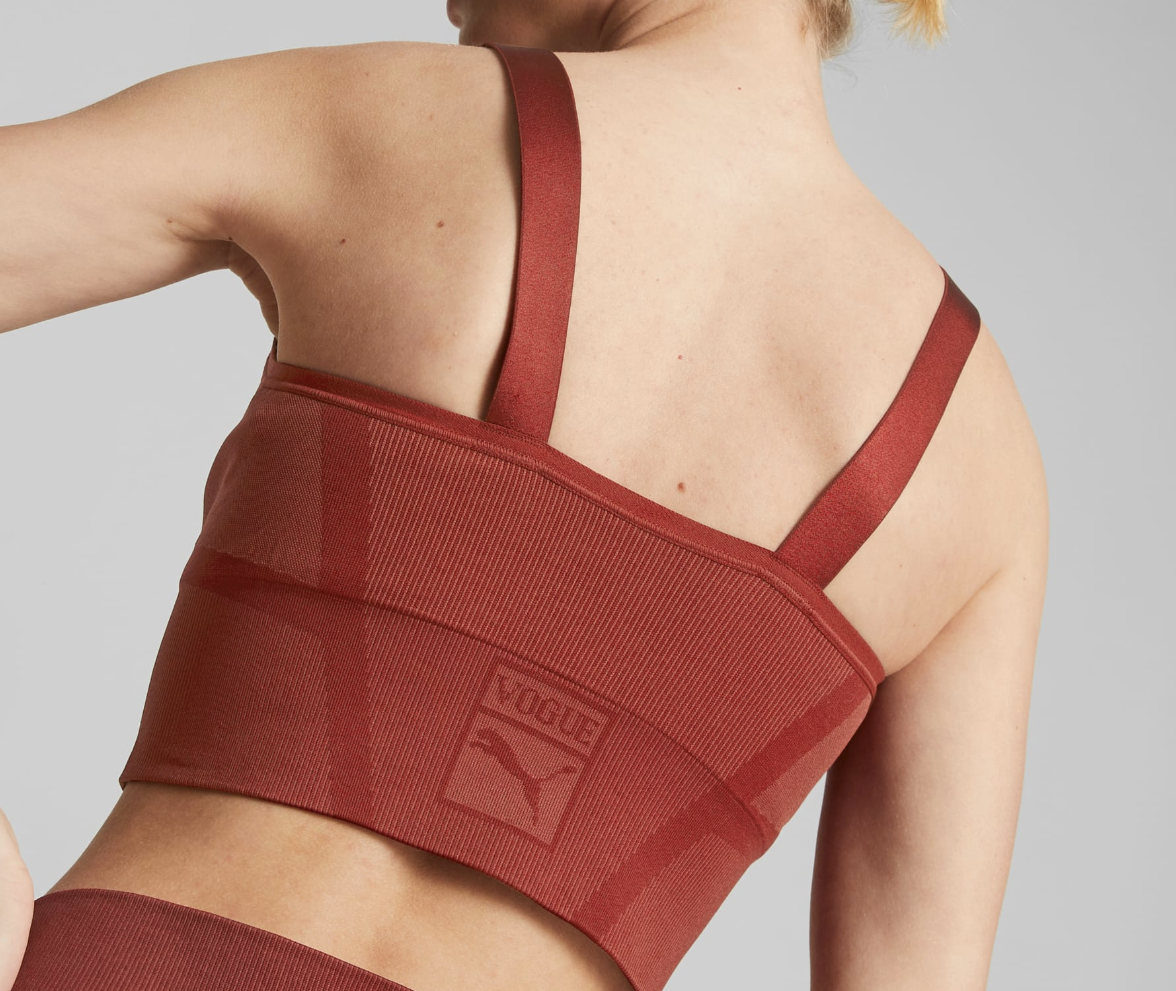 Naturally, you'll want to pair your non-slip leggings with a reliable and supportive top or sports bra.
 A great sports bra will deliver comfort and performance, providing tailored support with more coverage than a regular bra. Made from a flexible material, it will adapt to your body whether you are performing a chest lift with rotation, or a roll-up exercise. The right fit makes the whole experience more enjoyable and prevents irritation as you stretch to reach new extensions. 
A good sports bra will also help to regulate blood circulation and absorb sweat. Choosing one made from the right fabric can wick away sweat and increase airflow to the skin.      
If you are looking for support and some stylish options for Pilates wear, Puma bras are a great option, and they have a fantastic range of sports bras for all levels of workout intensity. 
They also include creative collaborations for the perfect blend of style and function. The Puma x Vogue Women's Bra Top is the perfect combination of a beautiful bra that can be used as a cropped top, perfect if you want to go out and about the city after your workout.
Available in light grey heather and vibrant red, this design offers low-impact support and can take you from studio to street style with its classic silhouette. It's also made from 20% recycled material.
Gripper-socks that will keep you from slipping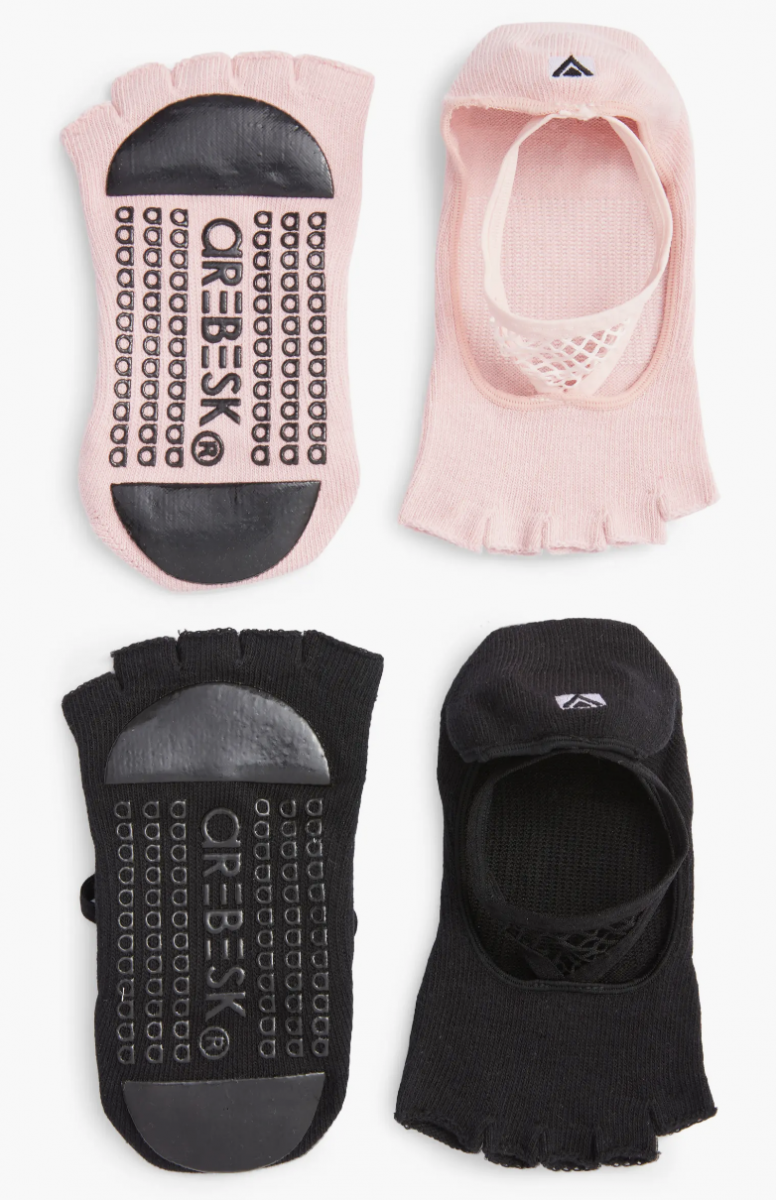 These are a Pilates outfit essential. With its low-impact approach and focus on working those smaller muscles, Pilates doesn't require you to wear sneakers. Instead, gripper socks are ideal for giving you full movement in your feet while offering traction and stability to protect your feet. 
The best gripper socks will be durable and able to withstand many workouts while maintaining a grounded grip and cushioned feel on all types of surfaces. You should also shop for a pair that wick away sweat and moisture. Some gripper socks even feature toe sock sections, meaning you can splay your feet wide and enjoy the full benefit of sole support.
Shop at Nordstrom, and you'll find a whole host of workout designs that combine style and function for your Pilates class. One of our favorite footwear options is the Muse Assorted 2-Pack No-Slip Open Toe Socks. Available in ballet pink and black, they are the perfect choice for higher-level traction to go full on your workout without slipping. 
H2: Exercise shorts that won't ride up
If you're looking for comfort and support while staying cool in the summer months, cycling shorts can be an ideal option for Pilates. Not only do they hug your body in all the right places, there is no danger of them riding up as you try different poses and positions.
As one of the world's leading sports brands, Adidas offers fabulous and stylish choices. Adidas Optime Training Bike Short Leggings are an ideal choice that comes in 11 different colors, from soft pastels to vibrant designs and three-stripe classics in grey or black. 
The length of these leggings is optimal for the movements you follow in Pilates, with a high waist that supports the tummy, supportive lycra, sweat-wicking AEROREADY technology, and all made with 60% recycled materials.  
Start your workout!
Follow our Pilates clothing style tips to find the best workout clothes. Remember, when you go to your next Pilates class, it's all about tapping into new levels of concentration and focus. Exercise should boost your confidence, and the right kit will help you feel comfortable and help you reach your fitness goals.