Style Affordable Activewear: Be Best Dressed in the Gym without Breaking the Bank
With our handy guide, you can find the best gym gear around without splashing the cash
Hitting the gym doesn't just do wonders for your fitness, it's also a great option for boosting those endorphins, feeling more confident, and maybe even meeting new friends.
It's also a great opportunity to shop a new wardrobe for cute workout clothes. After all, that an ancient faded T-shirt and those oversized track pants are fine, but are they really going to inspire you to go for those major gains?
OK, no one expects supermodel outfits while you're hitting the weights, but there are plenty of stylish ways to show off activewear that looks great without having to spend a lot of money. 
With comfortable and breathable clothes that fit well and enhance your best features, you can make sure you keep looking on point with our activewear fashion tips.
Budget sneakers that go with everything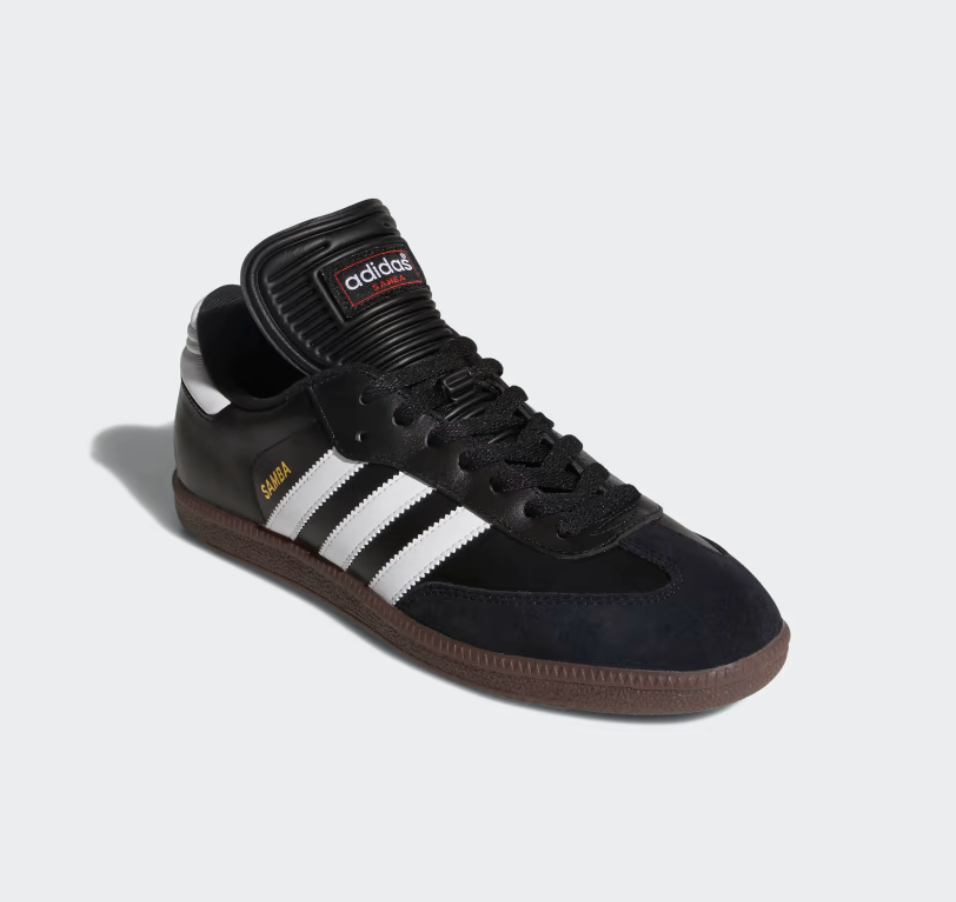 Start building your outfit with the right pair of sneakers that combine function and beauty. 
For great-quality sneakers, consider Adidas. They have an outstanding variety of styles. We're loving the Samba Classic, a design that was actually born on the soccer field but has become a street-style staple.
The soft upper layer is leather, for lightweight durability, while a suede overlay brings a flair of style. The EVA insole offers cushioned comfort, while the gum rubber outsole means you get an excellent grip on different surfaces.
There are a whole variety of colorways available, from the classic core black/cloud white design to stripes in racing green, scarlet, and neutral clay. 
These Samba Classic sneakers look just as good teamed with your workout wear as they do with your casual look on the way to the gym, so if you're looking for stylish ways to wear activewear, these kicks are a great place to start. 
Score leggings for less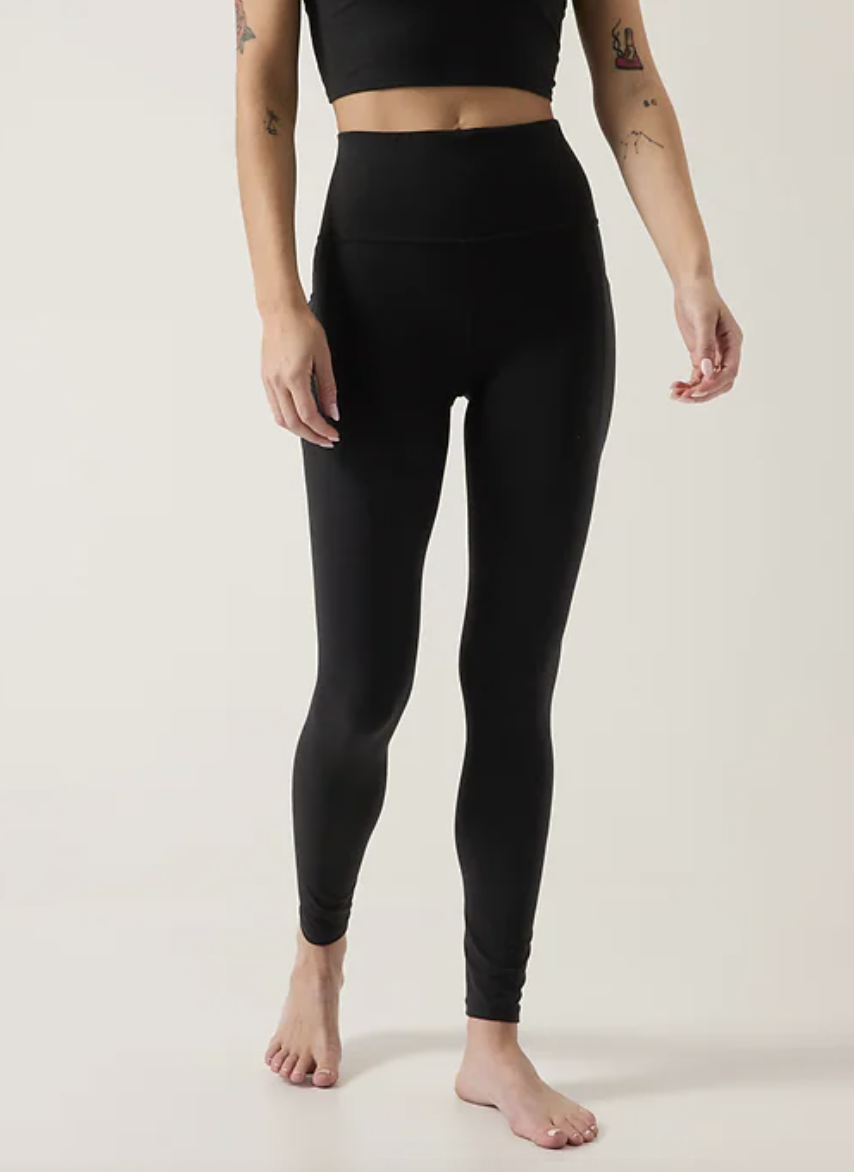 There are so many great choices out there for leggings these days that they have become a staple of workout clothes for everyday wear. Whether you're hitting the gym or heading to the store, leggings are one of the activewear fashion trends that aren't going anywhere.
Firstly, let's talk about how to coordinate workout leggings with other garments. Their versatility is a bonus - you can pair leggings with a crop top or t-shirt in the summer, and an oversized sweater or jacket for warm comfort in the winter. 
And style and fabric are important too. You want leggings that fit in all the right places, but that also have some give in them for when you're exercising or simply looking for a bit more comfort. 
If you're in the market for a great pair of leggings, you can't go wrong with Athleta. Their workout wear is tailored especially for active women and girls, with a wide selection of leggings designed from soft and versatile fabrics whether you're lifting weights, working on your cardio, or joining a Pilates class.

The Salutation Stash Tights from Athleta are ideal for yoga or studio practice, thanks to their supportive, silky-soft Powervita fabric. One of the best features is the practical bonded-side stash pockets that can hold all of your essentials,

You can build up a sweat with confidence, as the breathable nylon Lycra material wicks away moisture with ease. The Salutation Stash Tights are also quick-drying, so you can wash them daily and have them ready for your next workout session quickly and effortlessly.
Available in a whole variety of styles and colors, from capri to ⅞ length, bold color blocks to camouflage, and floral designs, you're sure to find the right look for you. And the high waistband adds extra comfort, gently embracing your body. Working out outdoors? They're even rated UPF 50+!
Our favorite cheap biker shorts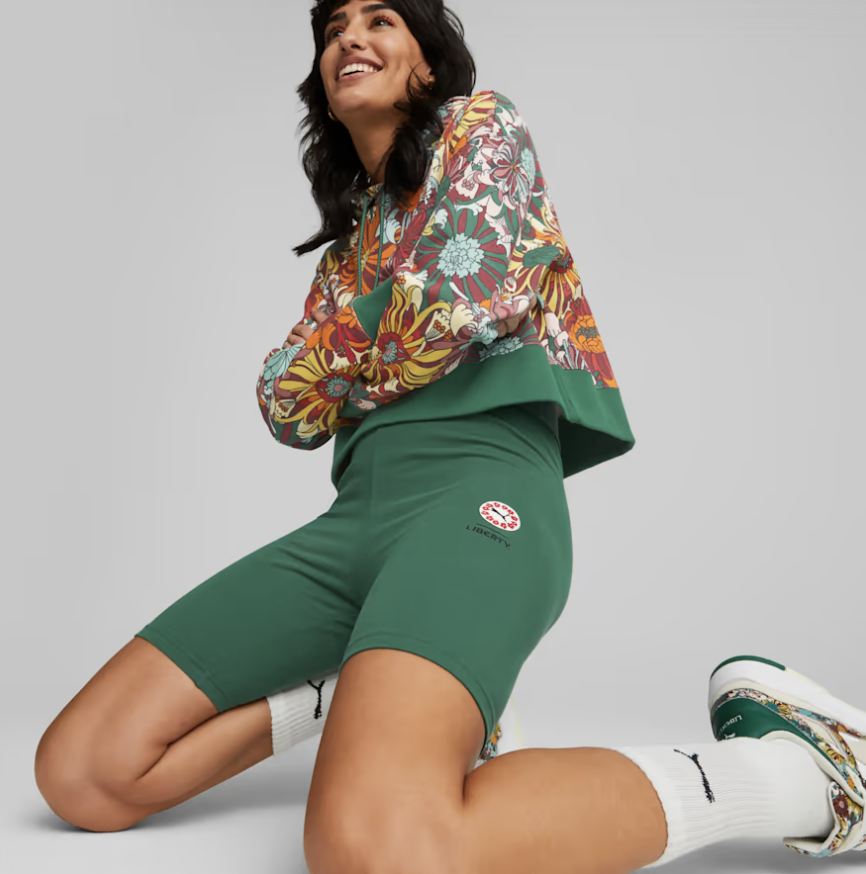 When it comes to styling workout attire, one of the best tricks is to look at the amazing collaborations offered by the top brands. It means you get a designer look for less with all the technical advantages of a top sports brand.
Biker shorts are a great go-to for your workout and are also trending hard among the A-list right now. They are comfortable, stylish, and, most importantly, don't ride up when doing physical activities like Pilates, yoga, or other classes that require flexibility and movement. 
Puma has some great designs, but it's one of its more recent collaborations that's caught our eye. The Puma x Liberty Women's Short Tights are a partnership with the London-based boutique famed for its unique floral print designs.
These biker shorts are available in a gorgeous forest green color, with a stylish elastic waistband sporting the Liberty name and a brand badge on the leg. The pared-back style is made of 93% cotton and 7% elastane for a comfortable fit. If you're mixing and matching workout clothes, consider these color-block biker shorts with a Puma x Liberty floral jacket or cropped hoodie. 
Save with matching sets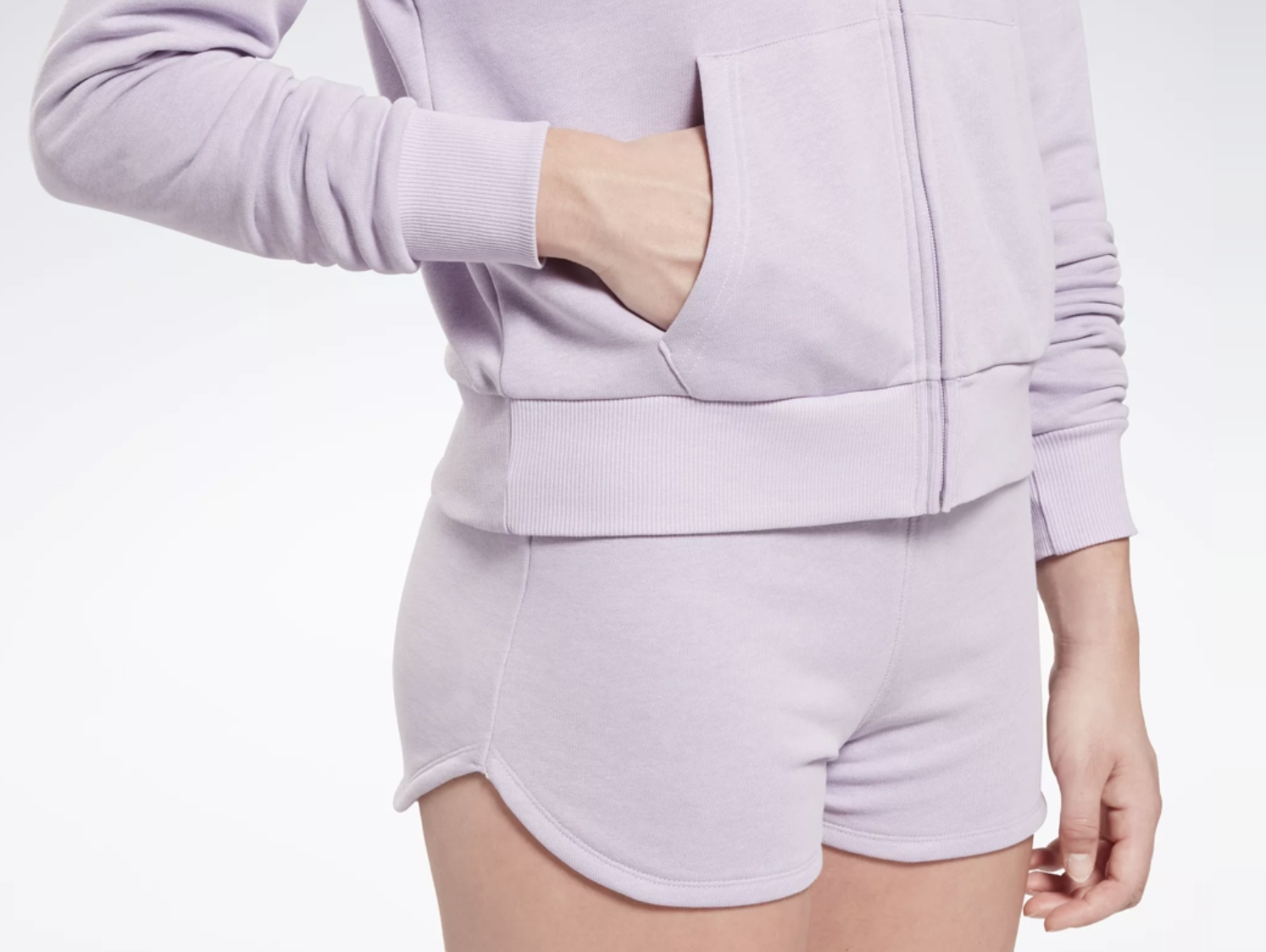 The key to creating a versatile and stylish gym wardrobe is mixing and matching workout clothes to discover your best looks. Reebok, as you might expect, has a fantastic and diverse selection of activewear that has caught our eye recently.
The French Terry Zip set comes fresh from a range of amazing activewear on their website. This super soft and lightweight zip-up jacket, in light purple, is perfect for pairing with a sports bra or activewear thanl, thanks to its tailored and slim fit. 
It's a great top that will make you feel comfortable whether you're stepping out on the tennis court, on a hike, or working hard in the gym. Even better? You can pair it with biker shorts or a tennis skirt in the same color, or opt for the shorts in purple and gray or even black.
Stylish gym-to-street looks
Workout wear is the new streetwear, so you know that if you invest in some great looks for the gym, they'll also double up for your athleisure style as well. 
Follow our tips and tricks for activewear outfit inspiration that doesn't break the bank. 
Going to the gym isn't only about strengthening your body, but also your mind. There's nothing better for your well-being and self-confidence than knowing you look good. With the right wardrobe, you can give your confidence a boost by not only working out but doing it in style.