When you make a purchase using one of these coupons, CNET may get a commission.

Thrive Market Coupons
All Active Thrive Market Coupon & Promo Codes - Already Redeemed 235 Times
Thrive Market is quite possibly the world's healthiest discount grocer. The company offers healthy snacks, organic food, fresh produce, and much more. When you purchase a yearly or monthly membership plan at Thrive Market, you get special access to markdowns on everything in the store. Thrive Market's virtual aisles have more than 6,000 brands to choose from, and the company even offers free samples on select items. If you use a Thrive Market coupon with your order, you can save even more.
close
Free Shipping at Thrive Market
Valid until 12/31/2021
Recently Featured Thrive Market Coupons & Promo Codes
Get 30% off with this Promo Code at Thrive Market
Grab 25% off Your Order at Thrive Market
Up to 30% off in the Black Friday Sale at Thrive Market
Take 25% off Sitewide at Thrive Market
Get 25% off plus Free Shipping with this Promo Code at Thrive Market
Coupons You May Also Like
Best Thrive Market Coupons & Deals
| Discount | Thrive Market Coupon Details | Valid Until |
| --- | --- | --- |
| Deal | Free Shipping at Thrive Market | 12/31/2021 |
Helpful Store Info & Advice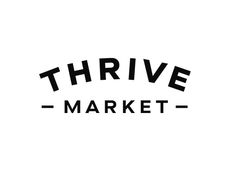 How do I redeem a Thrive Market coupon code?
Click the "Get Started" button if you haven't shopped with Thrive Market before. This button takes you to a questionnaire that helps you create a personalized shopping list.
If you have an existing membership plan, then click the "Sign In" link on the homepage.
Use Thrive Market's extensive search menu to browse for groceries by diet type, category, and value.
Click "Checkout" when you have everything you need.
If you are checking out at Thrive Market for the first time, enter your shipping and billing information.
Find the link that says, "Got A Promo Code?" next to the prompt for your billing information.
Check your shipping total after you enter your Thrive Market promo code. Free shipping on every order over $49 is included in your membership.
What steps can I take if my Thrive Market promo code isn't working?
If you are seeing an error message when you try to enter your Thrive Market promo code, you might want to consider the following:
Look up the Thrive Market coupon code's terms.
Is this code only valid for first orders?
Do you need to order certain items to claim your discount? For example, some codes are only good for meat or certain vegetables.
Are there spelling errors in the code? Try selecting the code with your mouse and pasting it directly into the appropriate box on the checkout page.
Does Thrive Market have a sale section?
Everything on the Thrive Market website is marked down at least 25% from the regular retail price. This is the minimum amount that you can expect to save, and there are a lot of Thrive Market promo codes, offering products for more than 40% off.
How can I get free shipping at Thrive Market with my coupon?
To get free shipping, all you need to do is order more than $49 of groceries, grooming products, or home care items. Free shipping is applied when you hit the minimum, and you don't need a Thrive Market coupon code.
Discounts for specific customers at Thrive Market
Is there a Thrive Market military discount for service members and their families?
Thrive Market gives all military veterans free membership, free shipping, and up to 50% off all orders. To claim your Thrive Market military discount, apply through the Thrive Gives program on the company's website. Additionally, military members can use Thrive Market coupons to save.
What kind of Thrive Market coupons for new customers are available?
New customers can take a 30-day, risk-free trial before signing up for an annual membership. Signing up for the trial gives you access to Thrive Market promo codes of 25-50% off, and new customers save an average of $32 the first time they shop.
Are there any Thrive Market coupons for returning customers?
As an existing customer at Thrive Market, you can take advantage of the company's daily and weekly deals. The "Savings" page also has cashback deals and all kinds of specials for an extra 15% off. Returning customers also have a variety of Thrive Market coupon codes to choose from.
Is there a Thrive Market student discount program available?
Students can apply for a free Thrive Market membership through the Thrive Gives program. The application only takes 10 seconds to fill out, and every membership comes with a free video series and extra Thrive Market promo codes that aren't available to regular members.
read more close