Hotels.com Coupon – Save $200 in March 2023
3.62 out of 5 stars found from 65 votes
Currently Active Coupons: 19
Hotels.com is a travel brand dedicated to vacation bookings. Its online portal includes more than 300,000 properties across the globe, helping travelers book accommodations wherever they go. In addition to their hotel booking services, Hotels.com also offers bookings for car rentals, flights, and vacation activities. The company operates 85 local websites in 34 different languages. As one of the largest hotel booking platforms in the world, Hotels.com also offers bookings for B&Bs, apartments, and villas. You can use a Hotels.com coupon to get substantial rebates and discounts on your next vacation.
Students, it's time for a vacation! Book your holiday break or spring break plans through Hotels.com and get 10% off your booking, just for being a student! Simply verify your student status using UNIDAYS to take advantage of this fantastic offer!
Available until further notice
Available until further notice
Available until further notice
Available until further notice
Available until further notice
Available until further notice
Expires the day after tomorrow
Available until further notice
30 day statistics: 9 new Discounts added • 9 tested manually • Last modified on 03/22/2023
Recently Featured Hotels.com Deals & Coupons
These Hotels.com coupons have been marked expired, but feel free to try them out.
It's always a good time to save money on a hotel stay, and this Hotels.com promo code can help you do just that! This promo code offers $100 off your next stay, so go ahead and book your next hotel stay through Hotels.com now!
Coupons You May be Interested In
All Valid Hotels.com Discount Codes & Offers in March 2023
| DISCOUNT | Hotels.com COUPON INFORMATION | Expiration Date |
| --- | --- | --- |
| $200 | Hotels.com Coupon: Up to $200 Cash Back on All Hotel Stays | April 28, 2023 |
| 25% | Grab 25% off Participating Hotels For Members at Hotels.com | April 02, 2023 |
| 10% | 10% off at Hotels.com | March 29, 2023 |
| 30% | Hotels.com Best Deal of the Season - 30% off or More on your Perfect Somewhere this Spring | April 30, 2023 |
| 10% | 10% off for Students at Hotels.com | December 31, 2023 |
| 8% | Claim 8% off with Visa Purchases with this Promo Code! | Currently, there is no expiration date. |
| 8% | Claim 8% off Select Hotels with this Promo Code! | Currently, there is no expiration date. |
| 15% | Save at Hotels.com with Up to 15% Off | March 28, 2023 |
| Deal | Limited Time Only: Find Budget Friendly Deals | Currently, there is no expiration date. |
| Deal | Save at Hotels.com - Book Spring Deals | Currently, there is no expiration date. |
Most Popular Coupon Codes
Helpful Store Info & Tips

Redeeming your promo code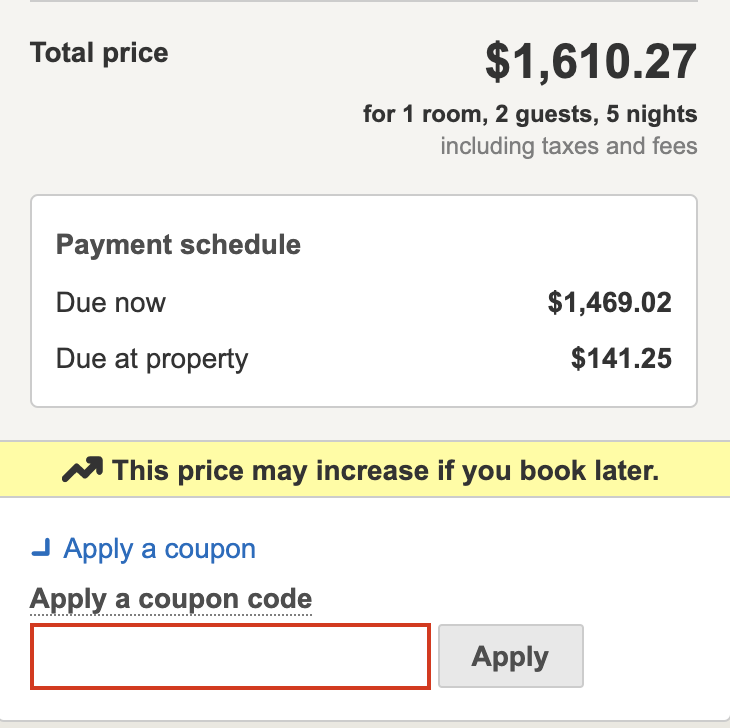 Select the hotel you want to book.

Pick your desired room.

On the next page, select "Pay Now" from the list of available options.

In your reservation summary, find "Apply a coupon code."

Paste your Hotels.com coupon code and hit "Apply."
If your promo code isn't working, try this:
Codes may be case-sensitive, so verify that you're typing the exact lowercase and uppercase letter as shown on the Hotels.com coupon.

Almost every Hotels.com coupon code is valid for a particular time period. Verify the expiry date of the Hotels.com coupon, particularly if you got the coupon from a third-party website.

Some Hotels.com coupon codes are device or application-specific, meaning they can only be used on mobile or desktop bookings. 

Note that some apartments, villas, and independent properties do not accept discount vouchers.
If there are no promo codes available...
You can still save on the Hotels.com website by filtering the nightly price on the left-hand side of the hotel listing page. This way, you can tailor your search to only show you listings that fit into your budget. You can also take advantage of the "Buy now, pay later" option that Hotels.com offers so you don't miss out on the best available bookings.
Combining coupons
Unfortunately, you can only apply one Hotels.com coupon per booking. Be sure to choose the coupon of greatest value to get the biggest savings on your stay.
Using online coupons in-stores
As Hotels.com is an online booking platform, you must use your coupons during your online purchase. When you arrive at the hotel or accommodations you'll be staying at, you will not be able to use any online coupons to save money on your stay. 
Annual sales
Black Friday sale
The Hotels.com Black Friday sale offers up to a 40% discount on almost every hotel available on the list. Besides these Hotels.com deals, you will get a chance to shop on Cyber Monday. During these dates, Hotels.com offers Mystery Coupons, which you can use to receive savings of up to 99% on hotel bookings.
Public holiday sales
On certain public holidays, you can get Hotels.com coupon codes offering up to 50% on popular hotels. Unlike the Black Friday event, Hotels.com public holiday sales may start many days earlier leading up to the main event. Use the website filter to sort hotels for maximum savings.
Seasonal sales
Mark your calendar for Christmas and the start of a new season because the company will likely send Hotels.com seasonal offers to your email. If you've never used Hotels.com, it's a good idea to create an account and provide your primary email address so you may use the Hotels.com promo code to book your next vacation.
Sale section
If you're looking for a Hotels.com sale, visit the "Deals" tab on the hotels.com website. There you can use the Hotel Deals Finder to search for cheap hotels based on your desired booking date. Depending on the days and length of a booking, Hotels.com shows discounts based on individual properties. While they do not offer a Hotels.com clearance discount, you can always review secret prices by creating an account before searching for hotels.
Important Hotels.com info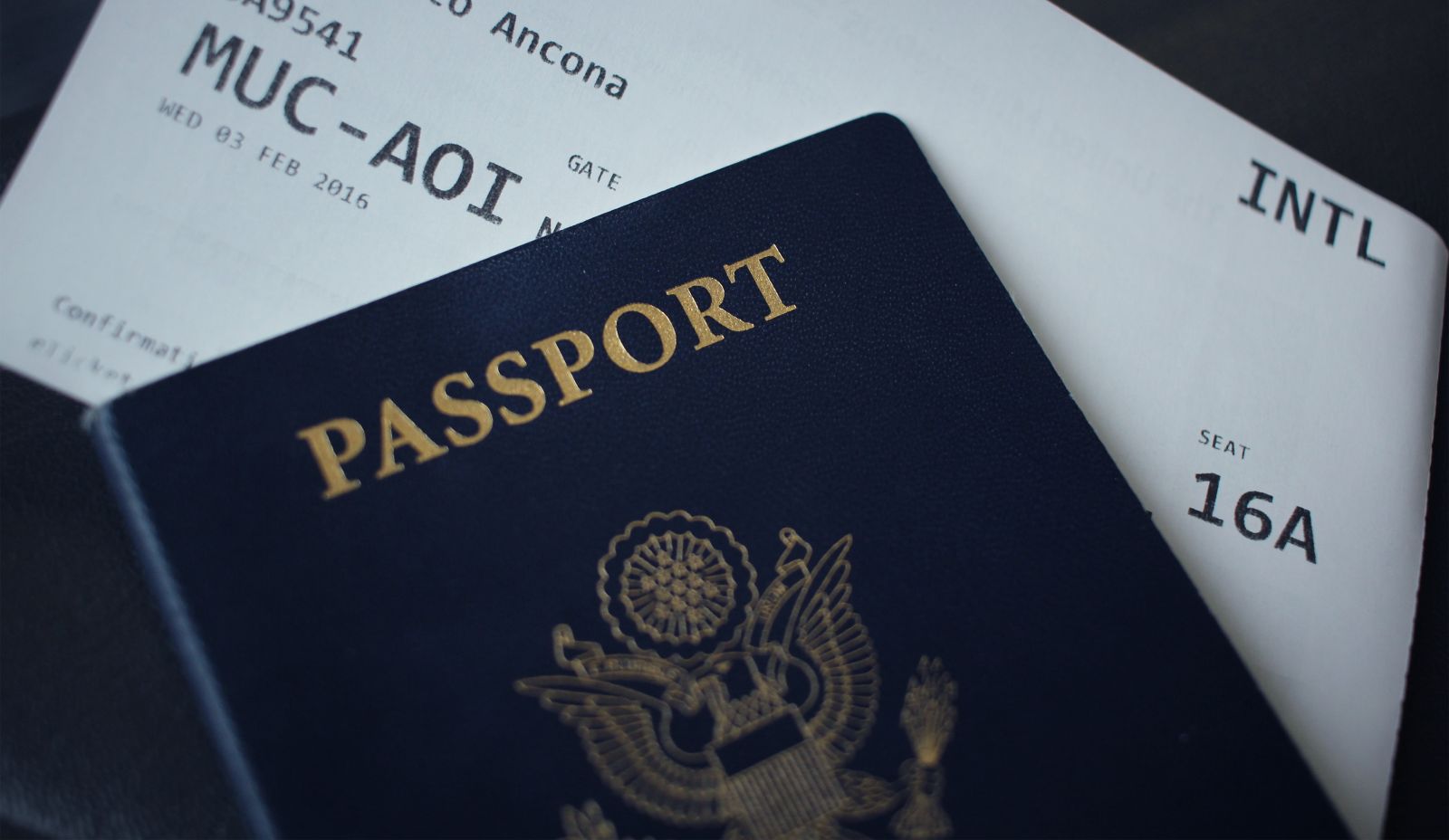 Insider Tip:
Create a Hotels.com account to reveal secret prices on select hotels to score discounts!
Hotels.comRewards
The Hotels.com rewards program allows users to get one free night for every 10 paid hotel nights. There are two levels of the Hotels.com rewards program, Silver and Gold status, that allow members different perks, including priority customer service, a hassle-free travel guarantee, VIP room upgrades, breakfast, airport transfers, and spa vouchers at select hotels. Plus, when you sign up for a Hotels.com account, you'll be notified of Hotels.com's secret prices on hotel bookings, granting you access to exclusive discounted hotel rates. 
The Hotels.com app
Yet another great way to save on your booking is through the Hotel.com app. Not only does the app make placing and accessing bookings incredibly convenient and simple, but you will also receive app-only discounts to help you save even more than on their website.
More unique discounts
How to get a military discount
Hotels.com offers a 10% discount on the published rates to the military community. Before accessing a Hotels.com military discount, you will need to verify your military status through ID.me. You can do it on the checkout page prior to booking a Hotels.com deal.
How to get a student discount
Every student can get a rebate of 10% on the official website. To use the Hotels.com student discount, you will need to verify your student status on UNiDAYS before booking a hotel on the website. Students 18 years or older can also receive an extra 40% off their hotel bookings at participating Price Guarantee hotels. It's also advisable to carry your student ID with you to the hotel because some hotels will require students to show their physical ID before check-in.
How to get a first responder discount
Yes! Similar to the military discount, first responders must verify their status on ID.me. After that, you will be eligible to receive the 10% Hotels.com first responder discount. 
Sign up offer
The Hotels.com sign-up offer allows you to get money-saving coupons directly to your inbox. You can subscribe to the newsletter by scrolling down to the bottom of the main page and clicking on "email." Besides getting instant savings, you will also get a Hotels.com newsletter coupon as a welcome gift.
Refer a friend
You can refer a friend to Hotels.com and get $50 off your next booking. As a courtesy, your referral will also get a $50 discount on the first booking. For the deal to work, it's important to understand that the reward will only work on a new account. Similarly, the deal is only valid for a minimum $300 hotel stay on a single booking.
More Hotels.com information 
Refund policy
You can get a refund on a hotel or flight booking. When and how you receive your refund depends on whether you paid with a credit or debit card or a Hotels.com gift card. If you paid with a credit or debit card, you will receive your refund up to seven days after submitting your request, while gift card payments will take just 4 hours. Some bookings, however, are non-refundable. 
Payment options
Hotels.com allows users to pay with a range of payment options. You can use any major debit or credit card, including American Express, BCard, UnionPay, Diners Club, Discover, JCB, Mastercard, or Visa. You can also use Google Pay, PayPal, or a Hotels.com gift card.